Food cling film slitting&rewinding machine
PPD-SSR1200
Food cling film slitting&rewinding machine is designed for slitting rewinding of jumbo roll of PVC/PE cling film,PE food wrap film,it canadd the perforation line during the process of slitting&rewinding.High speed,user friendly.
Food cling film slitting&rewinding machine is ideal for designed for slitting and rewinding of PVC,PE food cling film,PE food stretch wrapping film,the main time it can add on the perforation line,the dotting line.
Machine can work as a standard high speed semi automatic cling film rewinding machine with or without perforation line,dot line.
It can slit the mother roll into perfectly 3 roll of sub roll by three indepenent rewinding station for user friendly.e.g the mother roll at 900mm to slit into 3 units of 300mm width sub roll.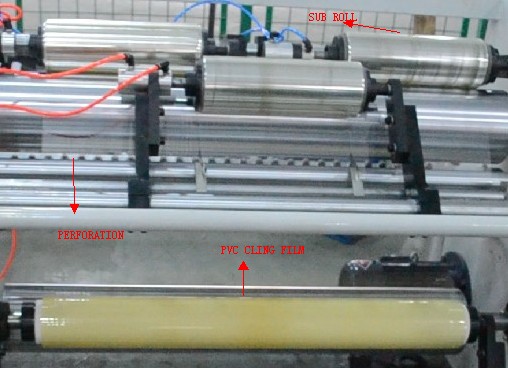 Any requirement can be customized by our advanced technolog in rewinding machinery.
Technical Specs:
Material:PVC/PE food clign film,PE stretch film
Max width of the parent roll:1200mm
Max outer dia of parent roll:475mm
Inner dia of parent roll:3''
Sub roll slit&rewind width range:50-1200mm
Sub roll inner dia:1.5/2/3''
Sub roll outer dia:300mm
Speed:0-650m/min
Voltage:220/380/415/450v,3ph
Send Inquiry
Share to:
PVC food cling film slitting&rewinding machine
,
PVC cling film rewinding slitting machine
,
Slitting&rewinding machine for cling film with perforation
,
rewinding slitting machine for cling film with dot line
,
dotting rewinding sliting machine for Cling film
,
perforating rewinding slitting machine for cling film